A new 'neighborhood watch': Azeri horsemen guard BP pipeline
The $100 million effort stretches across 450 towns and is part of a growing push for corporate social responsibility.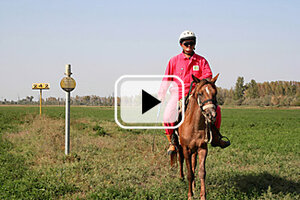 Yigal Schleifer
Six days a week, Seymur Alizadeh and his chestnut-brown mare patrol the Azerbaijani countryside. Buried a few feet below is the prized Baku-Tbilisi-Ceyhan (BTC) oil pipeline, which delivers nearly 1 million barrels of Caspian Sea crude to Western markets each day.
Mr. Alizadeh, one of many local villagers guarding the oil route, says, "I feel like a very important part in protecting this pipeline." Hiring local horsemen is part of a larger effort by pipeline builder BP to create a massive neighborhood watch.
BP and other energy companies are under scrutiny for their relations with local communities worldwide for the cost, disruption, and even bloodshed their lucrative pipelines are responsible for. So in recent years they've honed a new formula: invest heavily in the affected communities and try to foster goodwill, neutralize controversy, and hopefully safeguard their multibillion-dollar investments.
"They have the spotlight on them to do something good in the societies in which they operate, and with the Internet communication revolution, you can very easily publicize something about them from any corner of the globe if they do not behave appropriately," says Lars Gulbrandsen, a Norwegian researcher who has studied corporate social responsibility (CSR) in Azerbaijan and elsewhere.
---