Bhutan wary of democratic change
The isolated nation holds its first-ever national election Monday after decades of guardianship by kings who severely limited contact with the outside world.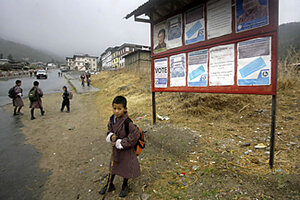 Manish Swarup/AP
The Himalayan kingdom of Bhutan holds its first national election Monday – a historic event expected to herald great changes in this deeply conservative, isolated country.
Bhutan, which is wedged between India and China, has been ruled for over a century by kings who have jealously guarded it from the outside world. International media were allowed into the kingdom only in 1974 and television in 1999. Tourism and foreign investment have been limited in order to slow the homogenizing influence of global culture.
But after Monday, when Bhutan elects its first democratic government, the kings' guardianship will come to an end. Bhutan, also known as the Land of the Thunder Dragon, will be ruled by the people. The king, who had ruled with absolute power, will become a constitutional monarch, impeachable by a two-thirds vote in parliament.
At the moment, however, many Bhutanese are concerned about what changes this new democracy will bring, and most say they would prefer to be governed by their adored king.
"I love the king; I can't see what's wrong with having him as ruler," says Payang Bidda, as she sits by the roadside stall where she sells bright-red chilis and salty dried fish in Thimpu, the capital.
Democracy is the kings' will
---