Sri Lankan vote tests a peacemaking strategy
Saturday's elections in an old Tamil Tiger stronghold offer the prospect of more autonomy and an end to civil war.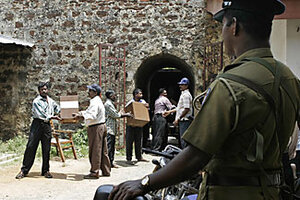 Anuruddha lokuhapuarachchi/Reuters
For the first time in 20 years, elections will be held Saturday in Sri Lanka's battle-scarred eastern province.
Designed to establish a civilian administration – the Eastern Provincial Council – in an area formerly held by rebels, and to bring greater devolution to Tamil-minority areas, the vote suggests that the government is seeking a political as well as a military solution to Sri Lanka's chronic conflict.
The island nation has been at war since 1983, when the Liberation Tigers of Tamil Eelam (LTTE) began their struggle for a crescent-shaped homeland in the north and east for the island's Tamil minority, long discriminated against by the Sinhalese majority.
In 1987, as part of a peace accord signed between India and Sri Lanka, the north and the east were merged as one administrative unit. But provincial council elections, supposedly held every five years, have been successively canceled in the region since 1988. In 2006, the provinces were separated.
Last summer, the government succeeded in largely ousting the Tigers from the east. It is now attacking the Tigers in the north, where the rebels hold a much tighter grip. Thousands have been killed in recent months as Air Force jets have bombed rebel positions and troops have mounted ground assaults.
The Army, like the Tigers, has suffered heavy losses. But the government hopes that the eastern elections will boost its campaign by undermining support for the rebels. In March, the government's United People's Freedom Alliance (UPFA) triumphed in a smaller local vote held in the region – a blow to the Tigers, say analysts.
---