Nations offer Afghanistan aid, demand accountability
Afghans sought help for its $50 billion five-year plan as donors met in Paris June 12.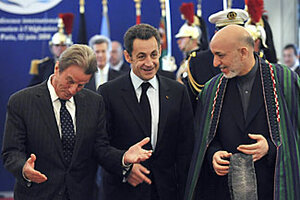 ERIC FEFERBERG/REUTERS
The people and villages of troubled Afghanistan will get substantial new aid – up to $16 billion – provided Kabul and President Hamid Karzai agree to greater United Nations oversight and clampdown measures on Afghan corruption and waste, world leaders said here Thursday.
The one-day 70-nation meeting in Paris arose out of deepening concern this spring that the NATO Afghan mission is too important to fail – amid Taliban resurgence – and that billions of dollars for civil and civic structures must actually reach ordinary Afghans and into small villages. It is a "hearts and minds" strategy – that stability depends as much on nation-building as on NATO security.
Yet the word "accountability" hung in the Paris air as much as the word "pledge," as Mr. Karzai's embattled government sought $50 billion over five years. The day opened with a frank UN report on progress since 2006 issued to the press – describing "deteriorating" security, increased opium production, the burning of schools, corruption. The famed "Afghan Compact" shaped in London two years ago "turned out to be overly ambitious due to changing circumstances," it read.
---