Pakistan turns to force against militants
In a switch from its efforts to negotiate, the three-month-old government launched an offensive in the North West Frontier Province amid a growing threat to a major city.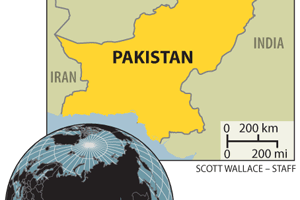 Scott Wallace
Pakistan's paramilitary forces launched a decisive offensive against Islamic militants encircling the strategically important city of Peshawar over the weekend – an indication that the new government is turning to military action after focusing, until now, on negotiation.
Troops from the Frontier Corps bolstered by tanks, armored personnel carriers, and helicopters cleared militants from the mountainous Khyber tribal area just outside Peshawar on Saturday in the first major military operation since Pakistan's new government came to power in March.
The offensive has highlighted the new government's struggle to find a clear strategy for dealing with militants. While it has never discounted a major military strike, it has focused on negotiating truces with militants, even while their spread has caused mounting alarm.
Indeed, some observers have speculated that the government used the Frontier Corps to create the impression that this was a law-and-order exercise, rather than a military one.
The United States fears peace talks have given Taliban and Al Qaeda-linked militants more space to operate along the border with Afghanistan.
---