In gritty Karachi, husband-wife team saves unwanted babies
Abdul Sattar Edhi and Bilquis Edhi are revered for their work over the last half-century, pulling abandoned babies from the dumps and drains of this Pakistani city.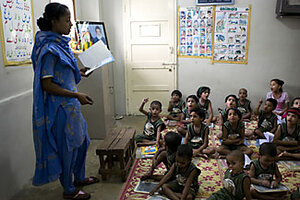 Jodi Hilton
Tiny, pink, and asleep in the arms of an orphanage worker, Amna didn't know she had survived being abandoned two days earlier in one of the world's grittiest cities.
Nurses had found her crying alone outside a local hospital – one of hundreds of babies abandoned in Pakistan each year. But helped by the Edhi Foundation, a nonprofit humanitarian organization based in Karachi, Amna soon would be adopted by a local couple who had been unable to have children.
The heads of the foundation, the husband and wife team of Abdul Sattar Edhi and Bilquis Edhi, have achieved a revered status for their work pulling abandoned babies from the dumps and drains of Karachi and receiving them from mothers with no questions asked.
In more than a half-century of work, they have rescued tens of thousands of babies and – despite prejudice against such children – placed an estimated 16,700 in adoptive homes.
"It's an amazing thing, because here in a society where there is no place for an illegitimate child they are providing a place for them," says Meera Jamal, a reporter for the newspaper Dawn. "People do hold [Mr. Edhi] in high respect.... He is viewed as the Mother Teresa of Karachi." [Editor's note: The original version misspelled Meera Jamal's name.]
The foundation has encountered resistance from religious leaders and other members of the local community, the Edhis say, because it takes in abandoned babies regardless of ethnicity or religion. The foundation makes an effort to match babies with people who are of the religion of their parents, if it is known – a highly sensitive issue among the country's religious leaders.
---