Obama's tour of Afghanistan renews debate about US role
The presidential candidate met officials and soldiers here this weekend at the start of a global tour.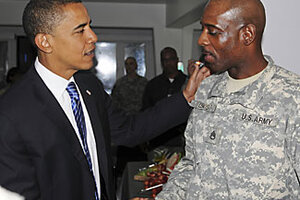 Reuters
– Hopes and fears among Afghans clashed during the weekend visit of presumptive US Democratic presidential nominee Sen. Barack Obama, who has vowed to send more US troops to Afghanistan if elected.
Among those familiar here with Senator Obama, his trip revived debate about America's military presence in their country. The US has the most soldiers in Afghanistan and donates the most money. Obama has proposed adding two more brigades, or about 7,000 troops.
"We have to understand that the situation is precarious and urgent ... and I believe this has to be the central focus, the central front, in the battle against terrorism," Obama told the CBS television program "Face the Nation" Sunday. "I think the situation is getting urgent enough that we have to start doing something now."
Mustafa Rawan, a young professional who says he was aware Obama had been in town, showed enthusiasm for the candidate and the presidential election. "I hope and feel he will be the winner in the presidential elections," he said.
---