Indian government's unstable win
In wake of confidence vote, it faces shaky political alliances and corruption claims.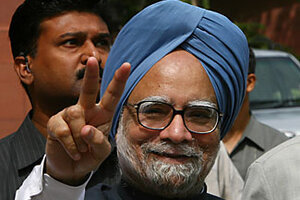 B Mathur/Reuters
India's prime minister, Manmohan Singh, scored one of the biggest victories of his political career when he won a knife-edge confidence vote in parliament Tuesday. But the triumph comes with strings that may weaken his government's prospects in upcoming general elections, expected to occur by May 2009.
The win will allow Mr. Singh to steam ahead with a groundbreaking but long-delayed nuclear deal with the United States upon which he has repeatedly staked his legacy and his government. It will also allow him to pass urgently needed economic reforms and rein in inflation, currently running at nearly 12 percent.
But salvaging his government has come with a price tag. In an intensely fought battle to cling to power, Singh's Congress-led coalition government, the United Progressive Alliance (UPA), was forced to cut deals with smaller, regional parties whose support may prove unreliable, say analysts.
And the government has been embarrassed by dramatic claims by the opposition Bharatiya Janata Party (BJP), that its allies offered cash for votes.
After two days of tumultuous debate in Parliament, the UPA won the confidence vote by a more comfortable majority than many had expected, with 275 seats, compared with 256 against.
The vote was sparked when the UPA's Communist allies withdrew their support from the government over the Indo-US nuclear deal, arguing that it would make India a stooge of the US.
---