After Musharraf's exit, joy and challenges
Pakistan's unpopular president resigned Monday, leaving a divided government to pick a successor and face other mounting problems.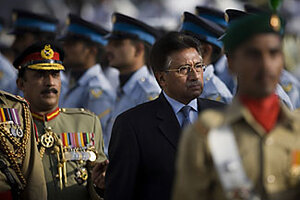 Emilio Morenatti/AP
The United States lost a stalwart ally in its war on terror Monday when Pervez Musharraf resigned as president to avoid a looming impeachment battle.
After seizing power nine years ago, the once-popular leader initially supported Afghanistan's Taliban, only to turn his back on them to support the US after Sept. 11, 2001. He survived several assassination attempts and watched his support plunge as he stalled on democratic reforms and suspended independent-minded judges.
Pakistan's divided government must now pick a successor while also tackling a growing threat from militants and a sputtering economy.
But the mood Monday was one of exhilaration, with many cheering the president's long-sought exit. Across the country, Pakistanis rejoiced on the streets.
"This is a historically great day for Pakistan and a triumph for democracy," says Samina Ahmed, South Asia project director of the International Crisis Group. "It is the first time a dictator has been forced to step down by a democratically elected government."
Musharraf – who, since February, has been sidelined in a democratically elected government – addressed the nation in a long and often emotional televised address. He held his announcement until the end.
"This is not time for individual bravado. I lose or win in impeachment proceedings; the Pakistani nation will be the loser," said the somber-looking former Army chief. "After taking advice from my supporters and friends, I have decided to resign in the best interests of the nation."
---