U.S. trains sights on Taliban, Al Qaeda stronghold
It plans to send more troops to Afghanistan and ramp up attacks in Pakistan.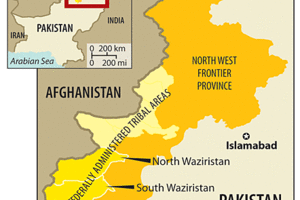 Rich Clabaugh–STAFF
Two announcements this week suggest that the US is adopting a more aggressive strategy to fight the growing insurgency that spans the Afghan-Pakistani border.
On the heels of allegations last week that US ground forces conducted their first-ever operation in Pakistan, officials there said the US killed four foreign militants in Pakistan in a missile strike Monday. And President Bush announced Tuesday that US forces in Iraq would be reduced by 8,000 troops by February – and 4,500 additional troops sent to Afghanistan.
The events are an acknowledgment both of the severity of the situation in Afghanistan and the perceived inadequacy of US allies.
The strikes in Pakistan are a tacit admission that Pakistan's military has not been up to the task of rooting out terrorist leaders in its inhospitable border area. And Mr. Bush's "quiet surge" comes after repeated failed attempts to persuade NATO partners to shoulder more of the fighting load.
Yet it is an acknowledgment that the US, too, has comparatively neglected Afghanistan while focusing on Iraq. While the situation in Iraq has somewhat stabilized, security in Afghanistan has deteriorated this year to the point that militants are moving beyond suicide bombs to daring and effective attacks against coalition forces and the heart of the Afghan state:
---