N.G.O.s put more Pakistanis in school
Many kids get no education or attend madrassahs, which may cover few subjects or even teach radical Islam.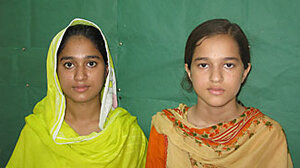 mian Ridge/the christian science monitor
Hamida Bibi, like many Pakistani women of her class and generation, did not spend a single day of her childhood at school. Poor and illiterate, she had few employment prospects when her husband died six years ago, leaving her to support two young daughters, which she did by working as a servant.
Her girls, to her delight, anticipate very different lives. Sidra wants to find work that will let her "travel the world." Sumaira plans to become a doctor. "It's been difficult for our mother but she's so happy we're studying," says the serious, bright-eyed girl, her head covered in a loosely draped yellow shawl.
Sidra and Sumaira are students at Sanjan Nagar, an English-language school run by a nonprofit organization in a dusty industrial suburb of Lahore. The school has 480 pupils between ages 3 and 18, all of whom come from impoverished families. While their parents are mostly unschooled low-wage earners, the girls here study a curriculum as advanced as any elite private school's – and their ambitions are correspondingly lofty. Indeed, every pupil in the 13-year-old school's first-ever final year is planning to apply to college.
The experience of students at Sanjan Nagar is rare, though. Pakistan's education system is in a dismal state, with state-funded schools practically nonexistent in many parts of the country.
Though subpar schooling exists in much of the world, the education crisis in Pakistan – a country at the front lines of the war on terror – has unusually grave ramifications. Without alternatives, many impoverished parents send their children to madrassahs, or religious schools, which often give free board and lodging. Many madrassahs teach orthodox Islam to the exclusion of all other subjects. The more militant among them are accused of recruiting volunteers for the Taliban and Al Qaeda.
---