U.S. airstrikes test alliance with Pakistan
Militants are targeted by drones to keep them from entering Afghanistan.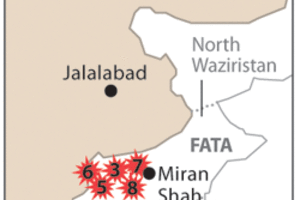 AP
More than at any time since Pakistan pledged its support to the war on terror in 2001, America's alliance with the country that is home to Al Qaeda and Taliban leadership is showing signs of significant strain.
America's top military officer, Adm. Mike Mullen, flew to Islamabad to meet with the Pakistani prime minister and Army chief Wednesday. He sought to quell mounting anger about recent US attacks against militants in Pakistan – eight missile strikes and a first-ever ground assault since Aug. 13.
A day earlier, a Pakistani Army spokesman had said soldiers would fire on US troops if they came into Pakistan again.
The relationship is increasingly marked by frustration and a lack of trust, and Admiral Mullen's need to rush to Pakistan – his fifth visit in the past year – points to a new and testing phase for the US-Pakistani alliance.
"This is the toughest period" of the seven-year alliance, says Moeed Yusuf, an analyst at Boston University. "Each side is testing the waters" to see how far it can push the other.
As America turns more of its attention from a relatively stable Iraq to a rapidly deteriorating Afghanistan, it is growing impatient with Pakistan's inability to rein in militants who use the country's loosely governed tribal areas as a base to attack Afghanistan. Some $11 billion in American aid to Pakistan – intended to build up the Army's counterinsurgency capabilities – has accomplished little.
---