No Afghan-Taliban peace talks, for now
Kabul may have tried to reach out to current insurgents by meeting with former Taliban in Saudi Arabia late last month.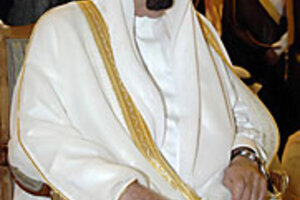 Reuters
The Taliban are not engaged in peace talks with the Afghan government, despite recent reports to the contrary, say sources close to the insurgents and the government.
Instead, meetings held last month in Saudi Arabia – which brought former Taliban officials together with members of the Afghan and Saudi governments – may be an attempt by Kabul to start negotiations with the current Taliban.
"The meetings signal that the Afghan government is weak and is desperate for a solution," says Waheed Muzhda, a political analyst in Kabul and former official in the Taliban government.
They've come at a time when the Taliban insurgency in Afghanistan and Pakistan is reaching unprecedented heights, causing some analysts to doubt that the militants will be interested in making peace.
Moreover, the former Taliban members who participated in the Mecca meetings may not have much sway in persuading current militants to come to the table. "These people don't represent the Taliban," Mr. Muzhda says. "Most of the people have almost no standing with the current Taliban leadership."
No current Taliban attended the meeting
---