Moon mission takes India's space program in new direction
Chandrayaan, launched Wednesday, will map the moon's surface. But most Indian space projects look for applications on Earth, such as telemedicine or distance learning for its far-flung population.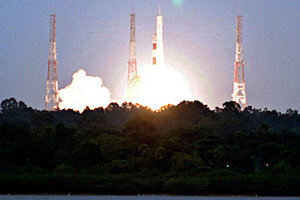 Babu/REUTERS
When India's first unmanned mission to the Moon left its launchpad shortly after dawn Wednesday, much of the world heralded the success as the crowning achievement of India's space agency.
Thousands of Indians, however, might disagree.
They are residents of India's remote archipelagoes who have had access to first-class medical treatment through satellite uplinks, or eager engineering students who have asked questions of some of the most respected professors in the country from hundreds of miles away.
India's 39-year-old space program is perhaps unique. In a country of great need, the Indian Space Research Organization (ISRO) has long prioritized the practical uses of space science over the prestige it so often brings.
The Chandrayaan-1 lunar probe marks an evolution of this tradition, signaling the new scope of the country's ambitions while at the same time rooted in the ISRO's modest beginnings – built solely with Indian know-how and for one-sixth the cost of a similar NASA mission.
"It is now a mature-enough space program to start doing these sorts of things," says Jeff Foust of The Space Review, an online magazine.
Chandrayaan is India's entry into an emerging Asian space race. China and Japan have also recently sent spacecraft to the moon, as well. South Korea is building its own space program. Following in China's footsteps, India is expected to begin a manned space program, too, though the decision has yet to be made.
---