North Korea hits back at balloon activism from South
It threatened Wednesday to shut its border with South Korea, where activists have been launching giant balloons carrying leaflets.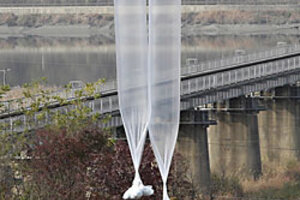 Woo Young-Sik/Reuters
Relations between North and South Korea appear to have suffered their worst reversal in more than a decade with the North's decision Wednesday to close its borders to South Korean commerce and tourism by Dec. 1.
Climaxing months of bitter confrontation, the North Korean military announced its plan to "strictly restrict and cut off" traffic across the demilitarized zone that divides the two Koreas.
The decision would mean the suspension of activity at the industrial zone of Kaesong, where 35,000 North Koreans work at more than 80 South Korean factories.
The immediate reason appears to have been South Korea's refusal to stop activists from launching balloons that wafted over the North, dropping leaflets denouncing the North Korean regime and exposing the prison system there.
"North Korea regards the balloons as South Korea's effort to force regime change in North Korea," says Paik Hak Soon, senior fellow at the Sejong Institute here.
North Korea put the decision in much broader terms, according to Pyongyang's Korean Central News Agency, charging the South with having carried on a "racket of confrontation" that goes "beyond the danger level despite its repeated warnings."
South Korea's unification ministry, responsible for dealings with the North, says it has asked activists to stop the balloon launches, but that it's powerless to stop them.
---