Is Kashmir key to Afghan peace?
Barack Obama says resolving the Indian-Pakistani dispute over Kashmir will be a goal of his presidency, ending eight years of silence on the issue.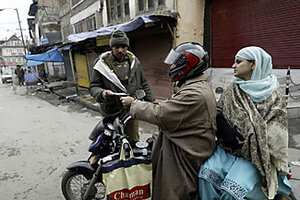 dar Yasin/ap
NEW DELHI; and ISLAMABAD, PAKISTAN
As part of his push to find new solutions to the war in Afghanistan, President-elect Barack Obama is considering a new diplomatic push on Kashmir, reversing eight years of American silence on the issue.
Mr. Obama has argued that Pakistan will not fully commit to fighting the insurgency it shares with Afghanistan until it sheds historic insecurities toward India. Talks about Kashmir, the central point of contention between the two nuclear rivals, are among the "critical tasks for the next administration," Obama said in an interview last month with Time magazine.
It is a strategy that worries Indians, who suggest the Pakistani Army is blackmailing Obama to support its claims. Yet security analysts say the Afghan insurgency has roots in the power struggle between India and Pakistan and cannot be solved without a regional approach.
"It will be very hard to put Afghanistan on a long-term positive path without alleviating some of the Indo-Pakistan tensions," says Xenia Dormandy of the Belfer Center for Science and International Affairs at Harvard University in Cambridge, Mass.
---