Female cops test traditional gender roles in Afghanistan
Policewomen are promoting better community relations, but face discrimination in their own career advancement.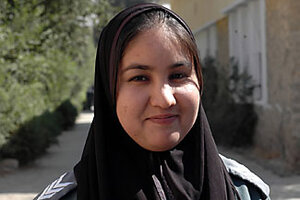 Mark Sappenfield/The Christian Science monitor
There is relish in Khatera Malikzada's voice when she talks about the time the Kabul police needed a woman.
The policemen, armed with guns and strict orders to search a local house, had made it no farther than the front gate. Following the customs of Islam, "the women were not allowing them to enter the house unless they had a female police officer," says Ms. Malikzada.
In four years on the force, this is her highlight – coming to her befuddled colleagues' rescue. But it is one of only four searches she has ever done. She has no gun and no beat, and some neighbors won't let their daughters even talk to her – fearful that she might put strange ideas in their heads.
As Afghan women seek a balance between new opportunities and tradition, the Kabul Police Academy is a unique proving ground. In a profession dominated by men, it offers both the first glimpses of independence and a frustrating lack of opportunity.
There has been progress in recent years, with women moving into better posts – from the head of the passport department to emergency call centers, says Tonita Murray, gender adviser to the Afghan department that controls the police, the Ministry of Interior.
"Still, a lot of it is tea-making and tokenism," she adds.
In a total police force of some 80,000, there are no more than a few hundred women. Within gender-specific roles, there is some scope for advancement. Before she was assassinated in September, the head of the crimes against women department in the southern city of Kandahar, Lt. Col. Malalai Kakar, was Afghanistan's highest-profile female officer. [Editor's note: Lt. Col. Malalai Kakar was the highest-profile female police
officer in Afghanistan, not the highest-ranking.]
---
Follow Stories Like This
Get the Monitor stories you care about delivered to your inbox.