Launch point for Mumbai attacks, Karachi faces rising militancy
City officials fear Pakistan's commercial capital could be paralyzed if militants become more unified.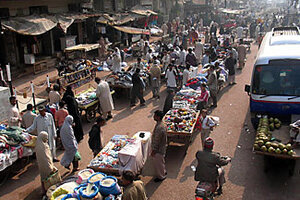 Ali Azhar/PPI Photo/Newscom
Karachi has long been described as the Paris of Asia, Pakistan's City of Light – a pulsating metropolis of finance, media, fashion, and telecom industries.
But now, the country's most liberal city is becoming a battleground for Pakistan's spreading militant threat. Those responsible for the attacks in Mumbai, India, reportedly left from Karachi Port and phoned a coordinator here during the assault. Murmurings have risen about "Talibanization" – and its use as a fund-raising point for militants based in the northern areas and tribal belt.
Some 5,000 trained militants reside in the city, says a senior police official with the Karachi-based Crime Investigation Department (CID), speaking on the condition of anonymity. And, of course, it is known as the place where journalist Daniel Pearl was murdered.
Deputy Mayor Nasrin Jalil says Karachi has long been "vulnerable to religious extremist sentiment." And concerns are running high that militants, with the financial and logistical support of Karachi's 3,000 seminaries, might organize under the banner of the Pakistani Taliban or Al Qaeda to paralyze Pakistan's commercial capital – rocking the financial sector and destabilizing trade flows in ways that could affect the entire country.
---