Pakistan's tenuous gains on Taliban
Past cease-fires have allowed militants to regroup, but a recent deal in Bajaur may be more durable.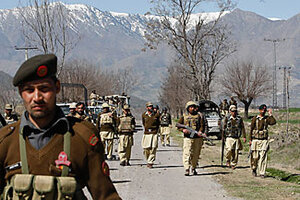 Mian Khursheed/Reuters
Delhi; and Peshawar, Pakistan
A pair of recent cease-fires in Pakistan has drawn many of the same critiques as past deals: They give militants legitimacy as well as an opportunity to regroup or relocate. But this time may be different. In the tribal agency of Bajaur, the military for the first time made significant headway before observing a truce.
To build on these gains, counter terrorism analysts say Pakistan must use the lull in fighting to bring in as much security and development as possible to Bajaur and to Swat, where a separate cease-fire deal was made.
A test of progress will be if refugees in camps in Peshawar begin to head home. Despite the military's declaration of victory against the Taliban in Bajaur late last month, many say it's still too unsafe to return. Travelers and residents say the Taliban haven't been flushed from two of nine districts there.
In Charmang, the military cannot even patrol," says Wahab Khan, a local trader who traveled there last week, after the military accepted a Taliban-initiated cease-fire. "People are still afraid and know if they speak out against the Taliban, they can be hung."
Yetin Bajaur, for the first time, Pakistani forces made significant military headway before observing a truce. And they did so only after the Taliban declared a unilateral cease-fire.
This is a break from pacts past, including the one made in Swat late last month."All of these other deals have been essentially ratifying defeats on the ground," says Christine Fair, a South Asia expert at the RAND Corporation based in Arlington, Va.
---