Pakistani police a growing target, Lahore attack shows
Interior minister says the Pakistani Taliban are behind the attack.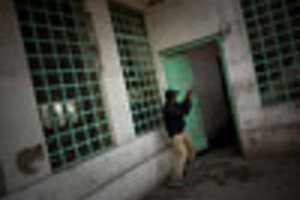 Emlio Morenatti/AP
Lahore, Pakistan; and New Delhi
Pakistani commandos overpowered at least 10 gunmen Monday to retake control of a police academy near Lahore.
The gunmen had eight hours earlier stormed the compound disguised in blue uniforms, leaving eight people dead and about 100 wounded – and demonstrating for the second time this month the weakness of police forces in the heart of Pakistan. On March 3, terrorists launched a similarly brazen attack in Lahore against the Sri Lankan cricket team, killing seven people before slipping away.
"The security guards weren't able to resist because they had no guns or no ammunition," says eyewitness M. Ilyas, a police constable.
Police have drawn the ire of jihadi groups for leading a crackdown and investigation of their suspected involvement in the attack on Mumbai in November. Analysts are divided over how much enthusiasm the Army has for tackling militant groups – even in the face of a rise in attacks – but there's consensus that it's the police who have proven the most aggressive and need the most Western backing moving forward.
"The police are the weakest link. They are both the most vulnerable and the most essential to the state if there is to be an effective crackdown" on jihadi groups, says Samina Ahmed, a Pakistan-based analyst with the International Crisis Group (ICG).
---
Follow Stories Like This
Get the Monitor stories you care about delivered to your inbox.