Climate change: Southeast Asia's preparation falls short
The Asian Development Bank says the cost of inaction could be severe for the region's agrarian-based economies and rapidly growing coastal cities.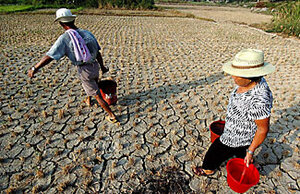 Jiang Kehong/Xinhua/AP/File
Facing rising sea levels, extreme weather patterns, and lower crop yields, countries in Southeast Asia are slowly waking up to the impact of climate change. Coastal towns in Vietnam are strengthening their sea walls. Communities in Thailand are replanting degraded mangroves. Forest practices are being overhauled in the Philippines.
But economists warn that these reactive efforts don't go far enough to tackle the threat to agrarian-based economies, which face potentially huge losses from failed crops and disaster relief. Far better to invest now, they argue, in adapting to more volatile weather before the full impact crashes through the region.
"Each government must realize that this investment is much cheaper now than later. They must realize this," says Tae Yong Jung, co-author of a new report by the Asian Development Bank (ADB) on the economic impact of climate change in the region.
Such investments would include climate-proofed infrastructure, energy-efficient industry, and forest-fire protection systems. Governments must also jointly safeguard common resources like rivers and cooperate on controlling disease outbreaks and managing disaster relief, the report advises.
Southeast Asia is seen as highly vulnerable to the impact of climate change because of its reliance on forestry and agriculture, which employs 43 percent of the workforce, and the concentration of large populations along exposed coastlines and rivers. Tens of millions of people live in fast-growing cities along the coast.
Under a scenario where global emissions continue to rise, the ADB predicts that sea levels could rise by 70 centimeters (27 inches) by the end of this century in a region where four in five people live within 65 miles of the coast.
---