Next Taliban conquest? A view from Pakistan's frontline.
Residents living between the militants and the capital worry their understaffed security forces can't defend their town.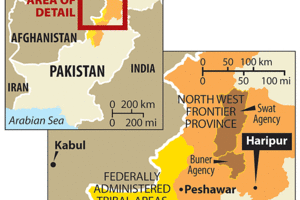 Rich Clabaugh/Staff
Shopkeeper and local reporter Zeeshan Aslam recently broke the news that residents of Haripur had been fearing: The Taliban had come to town.
These Talibs came in shackles, headed for cells in the local prison. But for residents of Haripur – one of the last outposts between the Taliban frontlines in Swat and Buner and Pakistan's capital – the news quickly got darker. Newspapers in recent days carried a Taliban warning: Release those prisoners, or we'll come to town and do it ourselves.
Surprisingly little would be stopping them if they did, highlighting a wider problem of weak police and paramilitary forces in Pakistan. Despite lying just 25 miles by mountain footpath from Buner, where nearly a week of fighting has left at least 80 Taliban and three security personnel dead, Haripur residents say the city and prison are poorly defended.
"We are already living in fear," says Mr. Aslam, flanked by visitors to his corner stationary shop. He lays down a newspaper carrying photos of masked Taliban fighters. Additional security forces have come to this city of 100,000, he says, but too few. "The cordon is porous, and they [the Taliban] can easily come in."
Military spokesman Gen. Athar Abbas offers a different assessment: "There is absolutely no threat to the city of Haripur given the military operation, and all the out routes from Swat [are sealed]."
---