Nepal's Maoists storm parliament, slide into opposition role
Political consensus on key issues surrounding the country's peace process will now be even more difficult as the Maoists gear up to become the main opposition party, analysts say.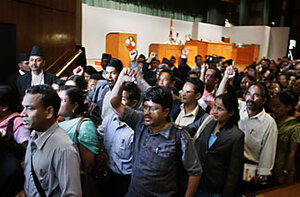 Gemunu Amarasinghe/AP
Maoist lawmakers – many of them former rebels – stormed Nepal's parliament on Monday to block a vote for a new prime minister.
The Unified Communist Party of Nepal (Maoist) has been delaying the formation of a new coalition government for nearly two weeks since the resignation of caretaker Prime Minister Prachanda on May 4, and this move could prolong the political crisis even further.
Prachanda, a former rebel leader whose name means "the fierce one," quit following a dispute with the Army over integrating his former fighters into the military as part of a 2006 peace accord that ended the insurgency. His resignation, ostensibly in "defense of civilian control over the Army" after the country's president countermanded his decision to sack the army chief on May 3, failed to ignite mass protests as the Maoists had hoped.
Instead, the Maoists find themselves increasingly isolated, with most rival parties joining hands to form a new government. Now the party looks set to take up the role of the country's main opposition, something new for the former rebels who were fighting a guerrilla war against government forces until 2006. Analysts say that the army chief row could effectively put an end to the politics of consensus that was the foundation of peace agreements signed after Maoists officially ended their war in November 2006.
"The politics of consensus is the biggest victim of these developments, and every agreement that leaned heavily on it needs to be reviewed," says Damakant Jayshi, associate editor of Republica, a leading English daily.
Dramatic events
---