Pakistan can clear Taliban territory, but can it hold it?
The 1.5 million displaced Pakistanis displaced are waiting in squalid camps
to go home. The US offered $110 million in new aid on Tuesday.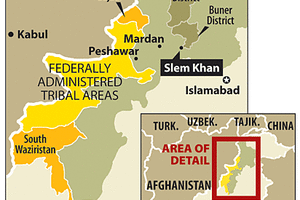 Rich Claubaugh/Staff
Worried about his crops and property, and hearing that the curfew had been lifted, Shamsul Qamar and his son paid $5 for a ride back home to Pakistan's Buner district this morning. When they arrived they heard explosions as government aircraft fired on the Taliban, who are fighting to maintain control of the area. Pakistani security forces promptly told them to turn around.
Now he's back where he started at a crossroads three miles outside Buner, watching families piled on trucks make the same hopeful journey home.
"Those families who are going back, they will return again," says Mr. Qamar. "I will go back only when there is complete peace, when the security forces have complete control, and when there is law and order with a local administration and police."
That's a tall order, but that's precisely the task facing the government if it hopes to not just finish this battle with the Taliban, but win the peace. Pakistan is trying to wrest control of Buner from the Taliban, who seized the district – just 60 miles from the capital, Islamabad – last month. But the military Pakistan has a poor track record of holding cleared territory, leaving many experts and refugees skeptical about the long-term gains from this operation.
"The Army can clear if by clearing it means utter devastation, but it certainly doesn't seem able to hold," says Christine Fair, an analyst with RAND Corporation in Washington. "Partly they have a doctrinal problem. They don't have a lot of institutions you'd expect them to have, because they are not a counterinsurgency military."
---