The most deadly US foe in Afghanistan
The Haqqani network, born of the Russian war and nurtured by the CIA, is behind many spectacular assaults in Afghanistan.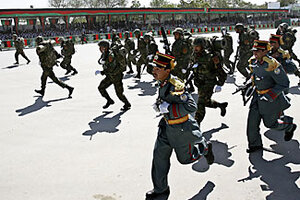 Omar Sobhani/Reuters/File
Sitting in an open field, three Taliban-allied insurgents carefully pore over a map of Kabul, the capital of Afghanistan.
"This is where we will be staying," one says, pointing.
In the next scene from this insurgent propaganda video, one fighter shows the others a video of an empty room with a window. "You will shoot at Karzai from this window," he explains to the others. "We have people on the inside who will help you."
The assassination attempt on President Hamid Karzai, which took place in April 2008 during a military parade, nearly succeeded. The president escaped, but three people died.
The fighters in this video had detailed intelligence of the area. They knew how to slip by police checkpoints, and they had people in the Afghan government telling them exactly where Mr. Karzai would be standing on the parade ground.
Afghan insurgents often film their operations from start to finish, edit the result, and release it as a propaganda video. This video was purchased in Quetta, Pakistan.
Afghan intelligence officials have identified one of the three men in the video as part of the assassination team. All are members of Afghanistan's most lethal group, the Haqqani network, a shadowy outfit that many officials consider to be the biggest threat to the American presence in the country.
---