Pakistan attack targets moderate cleric
The killing of the anti-Taliban religious leader may be an attempt to stoke sectarian violence.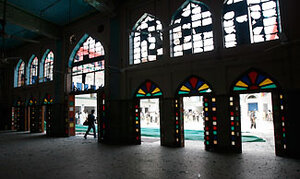 Mohsin Raza/REUTERS
The killing of an outspoken anti-Taliban cleric in a suicide-bomb attack in the eastern city of Lahore on Friday has raised the question of whether militants are attempting to stoke sectarian violence as they step up their campaign of terror in Pakistan's towns and cities.
"This certainly has the potential to trigger a level of sectarian violence not seen in the Punjab since the 1980s," says Badar Alam, the Lahore bureau chief of Herald, a leading monthly magazine. But, he adds, "with tactful handling by civil society leaders and condemnations by leaders of all sects, it can be contained."
A simultaneous blast occurred at a mosque in the northwestern town of Nowshera, killing at least three people and injuring more than 100.
According to eyewitnesses the Monitor spoke to at the scene of the Lahore blast, a young man approached the office of cleric Sarfraz Naeemi and blew himself up, killing the religious leader and five others. At least seven more were injured.
Among the most progressive clerics in Pakistan
Dr. Naeemi belonged to the Barelvi school of Sunni Islam and had a reputation as being among the most progressive clerics in the country. He also led a 22-member alliance of religious schools that had branded the Taliban as un-Islamic and supported the government's military operation against them.
In a June 3 rally, Naeemi had suggested that fireband cleric Sufi Mohammad, the spiritual leader of the Taliban in Swat, where the Pakistani military is currently engaged in a major operation against the Taliban, "should wear bangles if he chooses to hide like a woman."
---