In India, a mandate and a test
Repeat win by United Progressive Alliance shows faith in party on economy and security.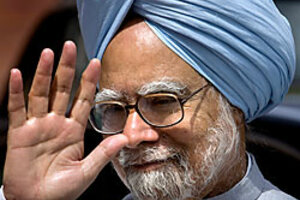 AP
Manmohan Singh, the blue-turbaned prime minister of India, hurried to appoint cabinet ministers from a string of allies shortly after a stunning victory in parliamentary elections in May that defied predictions of a hung parliament.
But as he prepares to shepherd the victorious Congress Party-led United Progressive Alliance (UPA) into its second consecutive term, he faces myriad challenges – from a flailing economy to a tenuous security situation, both at home and in the region.
"My first task is to restore the economy and its growth momentum. There is global recession and we have to protect our growth," Mr. Singh said soon after he was sworn in as prime minister.
Buffeted by the global economic meltdown, the growth of India's gross domestic product has ebbed – to between 6 and 7 percent after a high of 9 percent in 2007. After many years of witnessing rising incomes, the country faces the dour prospect of job losses. The Associated Chambers of Commerce and Industry estimates that this year Indian businesses could lay off nearly 25 percent of their workforce in the areas of information technology, real estate, construction, aviation, and financial services. Close to 40 million middle-class workers are employed in these industries.
Exports fell for the seventh month in a row in April, down a third from the year before. Industrial production has slumped into negative growth.
---