Kyrgyzstan weighs opium as industry
As an election nears, a presidential candidate promotes the idea that the opium trade could bring cash to the impoverished Central Asian republic.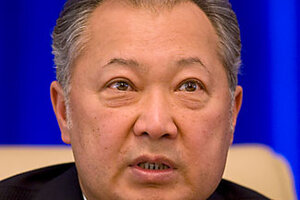 Reuters
Lacking the oil or gas revenues that fill the coffers of its richer neighbors, the small Central Asian republic of Kyrgyzstan has always suffered from a weak economy. Locals joke that Kyrgyzstan is the one country in the world untouched by the current financial downturn: "We're pretty well protected from the crisis ... we had no industries before and we've got no industries now," they quip.
While this may be an exaggeration, successive governments since independence have anxiously searched for different ways to boost the economy. Until now, this has meant developing the mining industry, hydroelectric power, and tourism. But the wild poppies blooming along dilapidated Kyrgyz roads hint at a controversial resource that some suggest could help drag the country out of poverty.
Presidential candidate Zhenishbek Nazaraliev, the founder and director of a drug and alcohol rehabilitation center in Bishkek, has proposed that the solution to Kyrgyzstan's economic woes lies in the legalization of opium cultivation for the pharmaceutical and cosmetics industries.
Pointing to licit opium production in countries such as Australia, India, and Turkey, Mr. Nazaraliev argues that the republic "should make the most of its God-given resources" and develop an industry to which its climate and ecology are suited.
---