Is there room for India's nomads?
Muslim Van Gujjars have herded water buffalos in the Himalayas for over a thousand years: Their tradition is now being challenged as an intrusion on, rather than a part of, the natural environment.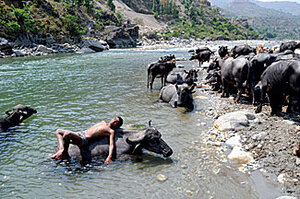 Michael Benanav
It was just before 2 a.m. when Dhumman Kasana knelt and prayed, facing west, toward Mecca. The mud walls of his family's hut glowed in the flicker of a kerosene lamp. Tea brewed over a fire. Milk was being sloshed into butter. Children asleep on the floor were prodded by elder siblings who were packing the burlap bedrolls: Time to get moving.
Twice Dhumman interrupted his prayers, advising his sons about loading the bullocks with the family's belongings. He closed his devotion by asking Allah to help his family and their 44 water buffaloes on the journey ahead. They travel the same route every April, migrating from the lowland forests of India's Shivalik hills up to their summer meadows in the Himalayas, following in the footsteps of countless ancestors. But Dhumman feared trouble this year. Government agencies in charge of his clan's traditional pastures had threatened to block them from entering, in the name of environmental preservation.
His family is Van Gujjar, a tribe of nomadic buffalo herders who've migrated across north India for at least 1,500 years. Today their population is estimated at between 50,000 and 70,000. Concentrated today in the states of Uttar Pradesh and Uttarakhand, they base their livelihood entirely on buffalo milk, which sells for between 14 and 22 rupees (30 to 45 cents) per liter. Though Muslim, they're vegetarian and would never eat or sell their animals for slaughter: They love buffaloes and treat them like kin, even burying them when they die.
"They come when you call their names, and when you give them affection, they return it, almost like people," explains Sharafat, Dhumman's 16-year-old son.
---