Pakistan's Christians protest lack of protection after deadly rampage
Authorities arrested 100 people and sought 700 more in connection with Saturday's deadly mob attack. Threats against Pakistan's minorities are increasing, watchdog reports.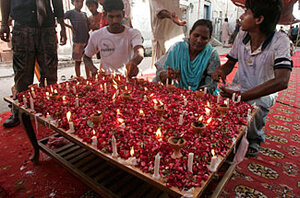 K.M.Chaudary/AP
After an anti-Christian rampage left eight people dead in the town of Gojra over the weekend, Pakistani authorities arrested 100 people and offered $6,000 in compensation to victims' families in an effort to reassure the country's Christian minority that they will be protected by the law.
But their response Monday failed to dampen accusations from Christians that the police neglected to protect them. The attackers in eastern Punjab Province also burned homes to the ground.
It was the third attack on Pakistani Christians in the past month, a trend that observers attribute to a rise in extremism and suspicions that local Christians are aligned with the US-led wars in Afghanistan and Iraq.
Sunni Islamic militants in Pakistan target other minority groups as well, including Shiites and Ahmadis, groups they consider heretics. According to Minority Rights Group International, a UK-based NGO, Pakistan had the world's highest increase of threats against minorities last year and was ranked the seventh most dangerous country for minorities overall.
"People are saying 'We hate Pakistan and we want to leave' – it's truly a terrible thing for community relations," says Joseph Francis, chairman of the Christian Nationalist Party.
Christians protest by shutting schools
---