Afghan candidates face more vocal constituency: women.
Presidential contenders are meeting with women's leaders ahead of the Aug. 20 vote. US forces targeted a Taliban stronghold Wednesday in bid to shore up security for the election.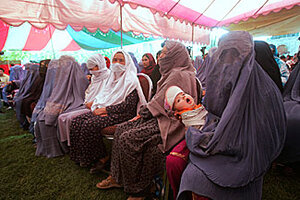 Rafiq Maqbool/AP
On a recent humid summer morning, two dozen women stream into a conference room overlooking a lush garden at Afghan presidential candidate Ashraf Ghani's headquarters. They have come to hear the former finance minister's policies on women – and to tell him what they want from the next administration: more female representation in senior political positions.
"It is worth mentioning that 42 percent of the voters in the last election were women, and it is expected that women voters may top 5 million in the upcoming vote," begins one woman as she stands to read the group's opening statement, which kicks off a lively 90-minute discussion about security, the economy, and the importance of women in government.
Former Foreign Minister Abdullah Abdullah and President Hamid Karzai have also held such meetings with these women leaders – Mr. Karzai hosting a group for a three-hour lunch at the presidential palace. Organized by the umbrella Afghan Women's Network (AWN), the gatherings mark the most serious effort Afghan women have yet made to hold the candidates accountable for campaign promises made in their name.
"We were not able to unify and to have one voice last time," says AWN's executive director Afifa Aziz, referring to the 2004 presidential race, Afghanistan's first-ever direct election for the country's top office. "We needed some time to organize, to grow, to mobilize."
---