Afghanistan's answer to 'The Daily Show'?
As Aug. 20 election looms, news comedy programs on private networks poke fun at politicians – and call it like they see it.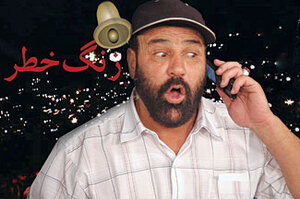 tolo tv/kaboora
In a presidential election where some politicians have promised the moon, one straight-talking "candidate" is making waves for doing the opposite.
"A vote for me is a vote to destroy your future," declares a barrel-chested, swivel-eyed hopeful known as "Bodrak" on a busy Kabul street. "If elected, I promise to serve myself first, then my relatives and friends, and then other people…. Votes from you mean foreign trips for us!"
Welcome to "Zang-e-Khatar" (Danger Bell), Afghanistan's answer to "The Daily Show," where everything from candidates running for president in Aug. 20 elections to government officials caught napping on the job to Kabul's problems with stray dogs comes under the comic scrutiny of Hanif Hangam and his cohosts.
The show is one of several satirical programs airing on Afghanistan's multitude of private television networks – and pushing the limits of political criticism – as the country experiences a media boom.
Satirical shows "are taking on all the major issues new shows aren't. Even in the presidential debates, the candidates were not truly pushed very hard or far in terms in terms examining their policies," says Haroun Mir, director of Afghanistan's Center for Research and Policy Studies. "Shows like 'Zang-e-Khatar' are able to pierce the traditional bounds of deference through the use of humor."
According to Saber Fahim of the media development nonprofit Nai, 500 registered publications, 10 newspapers, 90 FM stations, and 19 registered private television networks are now operating in Afghanistan – a remarkable achievement after years of Taliban rule that had shut down the news media.
---