Afghan elections: What's at stake?
Voting today will test the legitimacy of the government and the credibility of the international counterinsurgency strategy.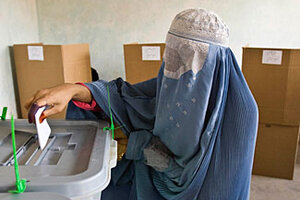 Raheb Homavandi/REUTERS
Under threat of Taliban intimidation and explosives, some Afghans made their way to the polls Thursday out of a sense of duty to country and desire for change.
"I would even vote if a Taliban was here and put a gun to my head," says Ghulam Sarwar Hasanzada, a voter at a crowded polling station in western Kabul. "I'm proud of my country and proud to vote."
At one level, today's vote will help Afghans assess who has momentum – President Hamid Karzai, reformers, or the Taliban – in a country where the population often tries to side with the winner.
For the US and other Western nations, today's election comes with the potential of widespread fraud and violent disruptions, which could call into question the legitimacy of the Afghan government and foreign involvement with it.
"Afghans are interested in electing their own government, but the situation is not allowing them to. So for them, the legitimacy of their own government is at stake," says Thomas Ruttig, an Afghan expert with the Afghanistan Analysts Network. "But it's also the image of the international community who came here to stabilize the country and to build up functional institutions, which was only successful to a limited extent."
It's too early for a countrywide assessment of the vote, but violence and technical problems hampered the process in parts of the country. In the capital, Kabul, morning voting levels appeared weaker than in past elections. At several polling stations visited, poll workers said the turnout was between 10 and 50 percent of what was expected. Insurgents detonated a car bomb before polls opened, fired five rockets into the city in the morning, and shot at a police station around noon. Traffic was light with businesses closed for the national holiday; some kites flew in the sky.
---