Afghan elections: What might happen next
With President Hamid Karzai's rivals crying foul, the incumbent may win by solid margins but lose legitimacy – which could hamper counterinsurgency efforts.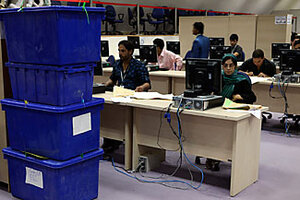 Rafiq Maqbool/AP
Reports of fraud continue to pile up in Afghanistan's presidential election, causing Afghan experts to suspect that President Hamid Karzai will win by solid margins without legitimacy.
On Saturday, presidential candidate Mirwaiz Yasini walked into the retro-chic Intercontinental Hotel in Kabul and dumped hundreds of ripped up ballots in the lobby – discarded votes for the opposition, he said. Journalists on a break between optimistic press conferences from international monitoring groups and the election commission rifled through the sheets.
They contained votes for candidates other than Mr. Karzai and bore a stamp from polling station workers. Mr. Yasini said his campaign workers found these scattered around the southern city of Spin Boldak after his observers were barred from polling stations by border police.
Karzai's main challenger, former Foreign Minister Abdullah Abdullah, added to the allegations of fraud Sunday, saying ballots marked for Karzai were coming in from volatile southern districts where no vote was held, and that turnout was being reported as 40 percent in areas where only 10 percent of the people voted.
"This is a sign or evidence of widespread rigging," Abdullah said, adding that he has no faith in the chief of the country's Independent Election Commission, a Karzai appointee.
---