Pakistani Taliban name another new chief
A council picked Hakimullah Mehsud to head the alliance, two days after another senior figure said he had taken over. The announcements may signal infighting, which in recent weeks has led to bloody clashes.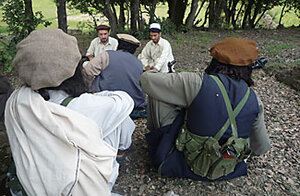 AP
The Pakistani Taliban named another new leader Saturday, just two days after the group's second-in-command declared that he had assumed the position left vacant by Baitullah Mehsud, whom American and Pakistani forces believe was killed in a drone attack on Aug. 7.
The announcement points to increasing factionalism within the group and adds to uncertainty as to who's actually calling the shots.
Faqir Mohammad had earlier insisted that he himself had taken over as leader of the group, called Tehrik-e-Taliban Pakistan (TTP), and that he had been endorsed by Hakimullah Mehsud.
But on Saturday he told the Agence France-Presse: "I am the most senior leader of the TTP after Baitullah, and the sacrifices I rendered for it are no less. However, due to some unavoidable reasons, I am stepping down. There is no factionalism within the TTP now."
Rivalries divide Pakistani Taliban alliance
Baitullah Mehsud held together the TTP, a 13-member alliance umbrella, and was blamed for some of the highest-profile attacks within in Pakistan in recent years, including the assassination of former prime minister Benazir Bhutto.
---