A high-stakes bid for Afghan hearts
The US has pledged more than $300 million in development over the next year in Helmand Province. Success could sway farmers at the center of both the insurgency and the opium trade.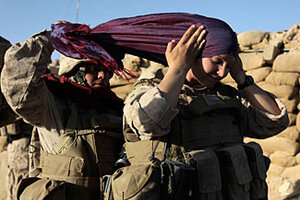 Julie Jacobson/ap
First came the Marines, then came the promises. Over the next year, the US is pledging an economic makeover costing more than $300 million for Afghanistan's war-torn Helmand Province.
But Afghans have grown cynical about foreign talk of development. Just as the Marines had to prove they could retake territory with minimal civilian casualties – which they did in an offensive in the southern province during the summer – the development community has a more difficult point to prove to ordinary Afghans: Siding with the government brings prosperity.
The American foreign assistance arm, USAID, says that within 12 months Helmand residents will see: a doubling of local hydropower, wheat seeds for more than 35,000 farmers, saplings for 1,000 hectares of orchards and vineyards, a new courthouse, new district police substations, jobs for 166,000 men fixing roads and irrigation ditches, and a new road linking the capital to the national ring road. The biggest goodie of all: an industrial park with space for agricultural factories and an airstrip.
If it sounds like a last-ditch effort, it is. Success would win over the farmers in the heartland of the insurgency and at the center of poppy cultivation, and demonstrate a formula for holding ground in Afghanistan. Failure – given the high-profile nature of this mission – could lose Afghans for good and dishearten Western publics about the prospects of the war.
---