NATO airstrike in Afghanistan overshadows drop in casualties
The attack, which killed at least 90 people near two Taliban-hijacked trucks, is a setback for NATO's push to limit civilian deaths.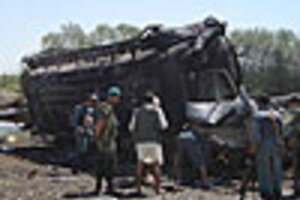 AP
At least 90 people were killed in Afghanistan Friday when NATO planes bombed two fuel trucks that had been hijacked by Taliban fighters. The high-profile attack and resulting fireball, which NATO chief Anders Fogh Rasmussen said may have killed civilians, could instantly deplete any Afghan goodwill the military alliance has built up since limiting airstrikes earlier this summer.
"One operation can ruin the entire positive image of NATO," says Waliullah Rahmani, head of the Kabul Center for Strategic Studies. "I think it's not currently visible to Aghans that NATO has decreased civilian casualties."
Civilian casualties from airstrikes have eroded Afghan support for international forces, prompting the new commander of US forces in Afghanistan, Stanley McChrystal, to order in late June that airstrikes be used only in "very limited" scenarios.
---