China threatens Xinjiang rumor-mongers with jail
Seeking to tamp down ethnic tensions between Han Chinese and Uighurs in Urumqi, China says rumor spreading will result in jail and needle attacks could be punishable by death.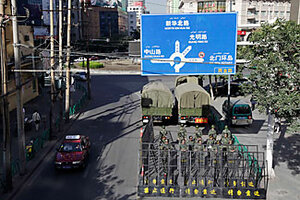 Nir Elias / Reuters
Police in the violence-stricken city of Urumqi have threatened rumor-mongers with jail terms, as officials strive to keep an uneasy peace after five people died in demonstrations last week.
The move appeared to be an attempt to calm a panicky population scared by reports of street stabbings with hypodermic needles.
Anxiety and anger at the government's handling of the alleged incidents brought thousands of people onto the streets last week, demanding the resignation of Wang Lequan, Communist party leader of the far-western region of Xinjiang.
Mr. Wang has kept his job, but the Urumqi party secretary was fired Saturday, along with the region's police chief.
Though some observers have suggested this indicated a victory for "people power," others argue that it simply illustrates the smooth operation of the ruling party.
"It was not the protests that brought them down, it was their failure to meet the protests," says Russell Leigh Moses, a Beijing-based political analyst. "When individuals fail in their performance they get sacked."
A police announcement reported late Sunday night by Xinhua, the official news agency, warned that anyone caught stabbing passers-by with needle-tipped syringes could face the death penalty. Rumors that minority Uighurs had been attacking Han Chinese had swept the Xinjiang capital for days.
---