Afghans criticize UN's strong hand in their election
Several analysts and opposition figures in Afghanistan say the UN's decision to fire Peter Galbraith for urging a harder line on election fraud affirms popular fears that it is the international community calling the shots on who wins.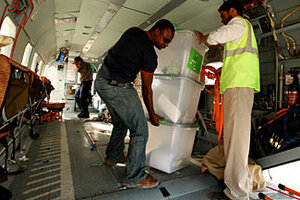 Ahmad Masood/AP
Before their country's fraud-riddled election in August, some Afghans complained it was the international community that would decide the result. With the United Nations having fired a top diplomat for urging a tougher stand against vote-rigging, a move made public Wednesday, they say they now have proof.
Several Afghan analysts and opposition figures criticized the decision to sack Peter Galbraith, the UN's No. 2 person in Afghanistan, for accusing his boss, Kai Eide, of endorsing a decision by the Independent Election Commission to allow fraudulent ballots to be counted – a move he said gave the election to President Hamid Karzai.
"I think it will further undermine the credibility of the election," says Haroun Mir, head of the Afghanistan Center for Research and Policy Studies in Kabul. "The majority of Afghans were already saying the final decision would be decided by the international community."
Everyone was hoping for an impartial decision, Mr. Mir continues, "but unfortunately, it seems the decision is political rather than technical."
---