China vows to save crew held by Somali pirates. But how?
Chinese officials hint that violent action may be taken to rescue the 25 Chinese crew members aboard a cargo ship seized by Somali pirates on Monday.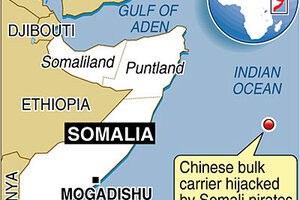 AFP/Newscom
Chinese officials are being tight-lipped when it comes to explaining what exactly they mean when they say Beijing will make an "all out effort" to rescue a Chinese cargo ship seized by Somali pirates on Monday.
But if it means they will take military action to rescue the crew, it would be the furthest projection of force from China for its navy in modern history.
Three Chinese military vessels are part of the international anti-piracy taskforce, but they are currently patrolling the Gulf of Aden, almost 1,000 miles from the spot where pirates seized the coal-carrying De Xin Hai and her 25 Chinese crew members.
If Beijing decides on a military rescue operation, "The Chinese could go in hard" says David Johnson, manager of Eos, a private British company specializing in maritime security. "They are renowned for aggressive tactics when they come across pirates. They open up on pirate vessels."
He theorized that the Chinese ships in the Gulf of Aden will try to intercept the hijacked cargo ship before it reaches the Somali coast and the pirate enclave around the town of Eyl.
Pirates threaten to execute Chinese crew
---