Afghanistan election runoff poses daunting challenges
A second round of voting in the Afghanistan election, set for Nov. 7, adds security and logistical difficulties to a process already marred by fraud.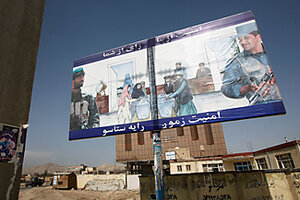 Musadeq Sadeq/AP
Flanked by a slew of international statesmen Tuesday, President Hamid Karzai put a second round Afghan election on the calendar, adding daunting new security and logistical pressures to an already deeply troubled election effort.
To this point, observers widely doubted the fraud-marred election would go into a runoff. But Mr. Karzai went for a runoff, rejecting speculation that he and his rival, Abdullah Abdullah, would sidestep another vote through a powersharing deal.
"A coalition government, no, there is no place for a coalition government in the law. There is no legitimacy in that," Karzai told reporters. "A new set of elections will be held in about 14 days' time," he added.
On several occasions, Karzai mentioned "14 days," the window given by the Constitution. Such a rapid runoff would be extremely difficult to conduct and – for it to inspire confidence – would require an immediate, major mobilization of people, money, and institutions.
"If all of the [stakeholders] move quickly, then it is possible to conduct – not in two weeks, but before the snow falls," says Ahmad Nader Nadery, head of the Free and Fair Election Foundation of Afghanistan. "If we are committed – the government, the Independent Elections Commission, the international community, we the civil society – if we are all committed to making a change … then I think it will be a different election."
---