As US seeks closer ties with Turkmenistan, government cracks down on students
Turkmenistan has prevented dozens of students from travelling abroad to study at a US-sponsored university, and has harassed some that have come home.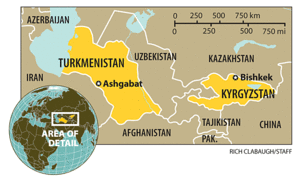 Rich Clabaugh/Staff
The United States has in recent months sought to improve relations with Turkmenistan, the secretive former Soviet possession that is home to rich oil and gas deposits and straddles a strategically vital central Asian location, sharing borders with both Iran and Afghanistan.
But those efforts are being complicated by a government campaign against students seeking to study at the American University of Central Asia (AUCA), located in Bishkek, Kyrgyzstan. Some students have been barred from travelling abroad to the school and others have been subject to surveillance and harassment when they come home.
"What do you study, how do they teach you, and why do you study it?," are some of the routine questions that one student from Turkmenistan, who asked not to be identified to protect herself, is peppered with by Turkmen KBG officers every time she returns home from the AUCA in neighboring Kyrgyzstan.
She has been fortunate enough to make it back to campus. More than 100 of her Turkmen peers enrolled at the Bishkek-based institution are still trapped in their home country, denied permission to travel abroad.
---