Taliban bomb Peshawar in response to Pakistan offensive
The Pakistan offensive against the Taliban is making some progress, but the militants have struck back with a series of suicide attacks in the city of Peshawar. Is this the last gasp of encircled Taliban militants – or a continuing counterattack?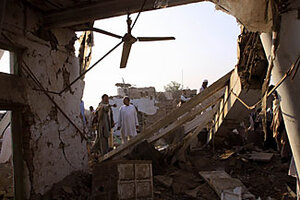 Mohammad Sajjad/AP
Haji Muhammad was carrying a box of chickens to his stall Monday when he saw the pickup truck racing down a Peshawar street. A moment later the truck exploded and he found himself lying on the floor, his right-leg crushed by the tumbling wall of the mosque next door.
"I don't know how I will be able to look after my wife and three children now," says the shop-keeper, now at the Lady Reading Hospital where many victims of suicide attacks in this northwestern Pakistani city have been taken in recent months.
The car bomb that injured Mr. Mohammed on Monday was aimed at a police station in the Peshawar suburb of Badhaber. The bomb killed four and injured 31 and was the fifth Taliban attack in the city in the last week.
What's not clear is whether such bombings are the last gasp of weakening Taliban fighters – in response to the Pakistani Army offensive in neighboring Waziristan – or a continuing trend.
---