Mumbai attacks: Why is Pakistan charging suspects now?
One year after the Mumbai attacks, seven Pakistanis were charged with conducting the assault in India. But few analysts see a quick thaw in India-Pakistani relations.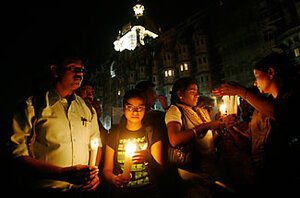 Punit Paranjpe/Reuters
A Pakistan court charged seven people Wednesday with participating in last year's Mumbai terrorist attacks. The indictments came one day ahead of the first anniversary of the three-day assault on India's financial hub that left more than 165 people dead.
The timing of the proceedings, which were closed to the public, is intended as a message to the international community that Pakistan is serious about cracking down on terrorists, according to analysts. It is unlikely, however, that this step alone will lead to the resumption of official dialogue between Pakistan and India, which was suspended in the aftermath of the attack.
Noting that the timing of the indictment appeared to be "manufactured," Hasan-Askari Rizvi, a Lahore-based political analyst says: "These people have been in detention for almost 11 months. The timing suggests Pakistan wants to send out a message that they are pursuing the people responsible."
The indictments come at a time of heightened tensions between India and Pakistan. Also on Wednesday, a spokesman for the Pakistani Foreign Office accused India of "preparing for a limited war" and pleaded with the international community to take notice of India's "long-term intentions."
---