Afghanistan war: Soldiers from Iraq see more experienced militants
President Obama is expected to announce an Afghanistan war troop surge tonight, which will have to come from soldiers who served in Iraq. Soldiers says Afghan militants are more skilled from decades of war.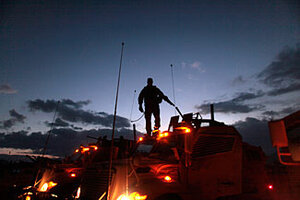 Dario Lopez-Mills/AP
COMBAT OUTPOST ZEROK, AFGHANISTAN
American soldiers were desperately fighting hundreds of insurgents trying to overrun their outpost here in Paktika Province when US Army Spc. Timothy Robbins, a veteran of Iraq, noticed something surprising.
"They were actually bounding at us, almost like they'd read our field manuals," he says, referring to a complex maneuver in which units take turns advancing and providing covering fire. During the July attack – one of the largest Taliban assaults this year that left two US soldiers and at least 10 militants dead – insurgents also coordinated rocket and mortar fire with their advance.
For Robbins and other soldiers who've served in Iraq, the attack was a vivid lesson that while Iraq gave them valuable experience, in Afghanistan they are fighting a much different war. These are skilled fighters who know how to hide in rugged mountain terrain.
How many of the US troops now in Afghanistan have also fought in Iraq is a difficult number to pin down. According to a forthcoming RAND study sponsored by the Army, 68 percent of soldiers on active duty with the Army have deployed to Iraq or Afghanistan at least once already.
The same study says that the United States' military capacity is maxed out, meaning that any surge in Afghanistan will have to come from US soldiers now in Iraq.
---