Why Pakistan's old jihadis pose new threat – at home and in Afghanistan
In an interview, a jihadi talks about why state-sponsored militants who once fought in Indian-controlled Kashmir are now joining the Taliban in Afghanistan and Pakistan.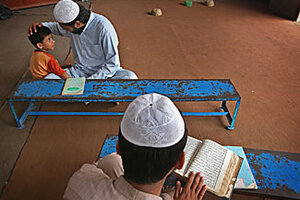 Newscom/File
hafizabad and lahore, pakistan
Saeen Dilawar hadn't killed an infidel in years.
Like many of his friends from Pakistan's Punjab Province, in the 1990s he rushed east to help the Army fight the Indians in Kashmir. When government support dried up in 2002, he returned home to his quiet farming town of Hafizabad.
But last summer, Mr. Dilawar found a new cause. This time he headed west to join the Taliban, sneaking across the mountainous border to Afghanistan to fight NATO forces.
"Unfortunately, I have not yet killed an American," he says. Shrapnel from enemy shelling broke his left leg and sent him hobbling home, he says.
In recent years, Pakistan has aimed its antiterror offensives at the Taliban network operating in the remote northwestern tribal districts, a largely ethnic Pashtun movement in an area that has long resisted state rule.
But another militant threat is rearing its head in Punjab, Pakistan's most populous province and its heartland; home to the country's capital, cultural hub, and military headquarters. Once-dormant Punjabi jihadists like Dilawar are beginning to link up with the Taliban, supplying manpower in battles in the northwest but also bringing the fight to Pakistan's center by carrying out attacks on their home turf.
---