Arrest of Arabinda Rajkhowa may tilt India's Assam rebels toward peace
With the arrest last week of India's Assam rebels chief Arabinda Rajkhowa, only one senior member now remains at large, raising the prospects for peace talks in India's restive northeastern state.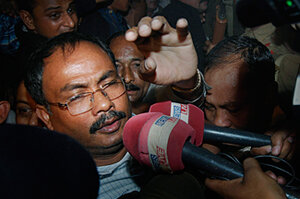 Anupam Nath/AP
The arrest of the leader of a violent secessionist group in Assam has raised hopes of talks – and eventual peace – for the restive northeastern state.
Arabinda Rajkhowa, chief of the United Liberation Front of Asom (ULFA), which is fighting for independence for Assam, one of India's seven northeastern states, was arrested Friday, after reportedly being handed over by authorities in Bangladesh, where he has been living.
Coming as it does after a string of arrests of senior ULFA commanders, the capture of Mr. Rajkhowa – who was arrested with several ULFA cadres – signals a further weakening of the organization, which the government hopes may lead it to agree to peace talks. After Friday's arrests, ULFA's only top leader still at large is military commander Paresh Baruah.
Rebels losing haven in Bangladesh
But it is Bangladesh's probable role in last week's arrests that has given the greatest reasons for hope that ULFA may soon be a spent force, say analysts.
Bangladesh, which may be anxious to avoid legal complications, has denied it arrested Rajkhowa, though widespread media reports say that it did. For decades, ULFA's top leadership is believed to have used the country as a base.
Two days after her party's landslide victory in general elections in December last year, Prime Minister Sheikh Hasina promised that "no one will be allowed to use this land to carry out terrorism in India."
Bangladesh's role is extremely significant," says Ajai Sahni, head of the New Delhi-based Institute for Conflict Management. "With the loss of Bangladesh as a safe haven, ULFA will now have to rely on Chinese support, and China will not allow the open setting up of camps … This will present ULFA with great logistical and operational difficulties.
---