Five Americans arrested in Pakistan were planning 'big attack'
Pakistan police chief says the five Americans arrested were trying to link up with a jihadi group, possibly Al Qaeda, for a "big attack."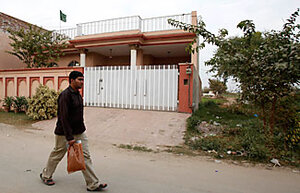 Faisal Mahmood/Reuters
The five young American men detained in Pakistan were seeking jihad, or holy war, and were planning a big attack when arrested, local authorities in central Punjab charged Thursday.
Usman Anwar, the chief of police in the town of Sargodha, told McClatchy that the five men, all from the Washington area, were seeking a link to an ultra-radical jihad group, possibly Al Qaeda.
"It's above Jaish. It's something more serious than that," Anwar said in a telephone interview, referring to Jaish-e-Mohammad, the group that's been implicated in the 2002 murder of American journalist Daniel Pearl.
News of the arrest in Sargodha, in central Punjab province, will fuel concerns that Pakistan is a magnetic draw for extremists across the world. The men were reported missing last month by their families back home. This was the third recent case of an alleged terrorist plot involving US citizens that's linked to Pakistan.
---