Is power in Afghanistan returning to ethnic fault lines?
Afghanistan was torn in the 1990s by civil war among ethnic-based warlords, but leaders now avoid directly appealing to ethnicity. Still, voting patterns in the Afghan election closely mirror the country's ethnic lines.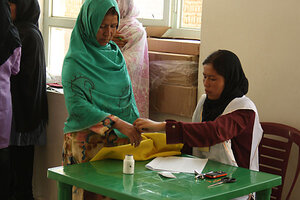 Ben Arnoldy/ The Christian Science Monitor/ File
Voting patterns in Afghanistan show strong overlap with ethnic identity. (See map.) Afghanistan was torn apart in the 1990s during a civil war among ethnic-based warlords, and the outcome of the controversial election in August threatens to rekindle ethnic tensions and burnish the power of the old warlords.
The present conflict already has ethnic undertones: The Taliban are almost entirely Pashtun, the dominant Afghan group. Now the fraud-ridden presidential vote has alienated the Tajiks, who largely backed the losing candidate, Abdullah Abdullah. In Tajik parts of the country, leaders openly question the legitimacy of the resulting government of President Hamid Karzai (a full-blooded Pashtun).
The election also seemingly rewarded Mr. Karzai for turning to ethnic warlords for support, thereby strengthening ethnic factional chiefs.
Karzai wound up carrying the Uzbek-dominated districts, almost certainly due to an 11th-hour deal with Uzbek warlord Abdul Rashid Dos-tum. Karzai brought Mr. Dostum out of quasi-exile to the raucous joy of his community in exchange for Dostum's support, a man with numerous human rights complaints against him. Karzai also won over a chunk of Hazaras, thanks to a deal with ethnic strongman Karim Khalili. Those votes might otherwise have gone to Ramazan Bashardost, a Hazara.
---