'Lady Al Qaeda': Pakistan reacts to Aafia Siddiqui conviction in US court
A New York court's conviction of Pakistani neuroscientist Aafia Siddiqui for the attempted murder of US soldiers in Afghanistan has stirred anti-American anger in Pakistan.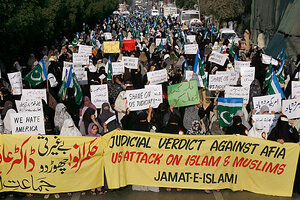 Athar Hussain / Reuters
Thousands of political and social activists and students across Pakistan on Thursday protested the conviction of Aafia Siddiqui by a Manhattan jury for the attempted murder of US soldiers in Afghanistan.
Siddiqui, a US-educated neuroscientist and Pakistani citizen was found guilty Wednesday. For many Pakistanis, the verdict is another example of the US government's high-handedness and is expected to fuel anti-American sentiment in a country where Washington's foreign policy is already viewed with suspicion.
"The public's reaction [to the conviction] can be read as a reaction to drone attacks, travel restrictions, and other discriminatory policies [against Pakistanis]," says Riffat Hussain, a political and defense analyst at Islamabad's Quaid-e-Azam University.
Pakistani opposition parties and human rights activists had already been protesting an escalation of strikes against targets in Pakistan by US drones – in January, 123 civilians were reportedly killed in 12 attacks. "Aafia's case has become a rallying point for anti-US sentiments," says Dr. Hussain.
Siddiqui was missing for five years before being apprehended by Afghan police in 2008. During the trial, jurors heard that she had been caught carrying bomb-making instructions and a list of New York City landmarks.
---